First, some important notes on lead generation….
NO TRAFFIC = NO LEADS
You probably know this but it is worth repeating. However, I won't tell you to double your traffic to double your leads…. even though that could work. Traffic generation is not the central topic for today. The first and most important thing to understand about lead generation is that….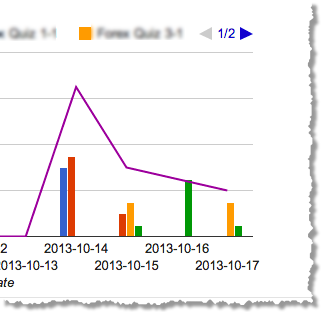 Not All Leads Are Created Equal
Even if you increase traffic or already have a source of traffic, it will not always lead to more sales. Many times the quality of your leads will be directly correlated to your traffic source. Brick and mortar businesses have this issue all the time. Particularly when they are reliant on walking traffic ( Beverly Hills vs. Compton California ).
Quality traffic will lead to higher conversions (sales and leads). In search marketing this is an important fact that many aren't aware of. Take the example of these two search terms:
"Best Running Shoes"
vs.
"Buy Nike Model XYZ Shoes"
When fishing, your bait (your offer), the weather (economy / time of year) and the location (traffic source) will impact how much you can catch. If your attempting to generate leads on Facebook then you might need different offers than, media buys or paid search marketing.
Take a careful look at your offer as it relates to the traffic source to improve your lead quality. Attempt to eliminate bad buyers in your funnel and filtering out prospects that waste your time, your bandwidth, etc. Generating a large number of leads, that never convert, will make you feel good but ultimately they just increase your autoresponder costs. Ask yourself this…
Question: Which of The Following Is Better?
A lead that costs $1.00 and spends $0.00
or
A lead that costs $20.00 and spends $50.00.
In some markets spending $25.00 to acquire a lead that spends $15 is worth the effort. But why? Why Lose Money to Generate Leads?
The reason is lifetime value also referred to as lifetime customer value (LCV) . The product owner or company knows the average amount each customer spends over time and is willing to wait to collect it all. Not everyone can afford this approach which is why so many people focus on lead quantity vs. quality.
One way  you can double your leads by increasing conversions. But is that really the full story?
Should you focus purely on conversions or would it be a good idea to increase conversions and quality at the same time? What….? You want to know how… OK, here is how….
You Can Increase Lead Quantity and Lead Quality at the Same Time!
This can be done by focusing on conversions AND… also qualify your leads at the same time.
This gives you the best of both worlds because it does not reduce conversions, it often increases conversions, when you move the prospect through a multi-step process. The farther they go, the more qualified and committed they are. And when done properly this can provide data that is critical in more traditional businesses…. you know, stuff like phone numbers and addresses.
My best example is in this client case study about generating higher quality leads.
This specific process uses a programable form that is built specifically for infusionsoft (although we can program this for any API capable autoresponder). So at each step the lead is tagged and segmented accordingly. The associated followup sequence is also designed to use the information collected during this process.
The way you present the offer, the landing page and the multi-step design are critical in this scenario. As such, it is worth the effort to do proper tracking, testing and tweaking.
You can also try a quiz or survey funnel to improve conversions and quality. Using a "quiz funnel" isn't a new concept but not many people use it. That is because they work best in very specific markets and can take some effort to design then correctly.
Using Quiz Funnels and Surveys to Increase Conversion and Quality Simultaneously
This screenshot from Facebook admanager is an example of how your lead cost can vary based upon the advertisement and landing page and/or  funnel steps. Each of these leads cost different amount and use variations on the landing page of the quiz as well as the amount of data collected.
Although it looks like we have one clear winner… the quiz design itself needs to be considered.

Is one lead more qualified than another?

Well, I can't tell you much about this particular campaign (still an active client project) but I can tell you that our conversions and total cost per lead for this market is lower using a quiz funnel. We have easily doubled the leads produced over the original "free report" approach. And… We are collecting 3x the data on each lead that travels through the funnel. This data is collected and added to Infusionsoft for segmented followup.

This allows me to send the proper marketing message when your prospect is seeing a relevant offer and email messaging that specifically addresses their interests.

Here is an example structure:

[tabs style="boxed"] [tab title="Start"]

Headline: "Find Your Perfect Tattoo"

Subheadline " Get 25 Tattoo Designs That Match Your Personality"

Question1: " Do you already have a Tattoo?"

<next button>

[/tab] [tab title="Step2″]

Question2: "What is your astrological sign?"

Question3: "What is your age?"

[/tab] [tab title="Step3″]

Question4: "Are you male/female?"

Question5: "What is your favorite color?"

Question6: "What is your Tattoo budget?"

[/tab] [tab title="Results"]

Where can we send your perfect Tattoo designs:

Name:

Email:

[/tab] [/tabs] [box type="info" style="rounded"] An actual quiz funnel may be a little more obscure and the landing page will often hide the additional steps tabs until the visitor takes the first step. It is worth split testing to be sure the quiz will convert the highest number of visitors.

In this example the quiz attempts to collect the visitors age and approximate birth month, then sex and budget. The final step is where you collect the most critical information. [/box]
 Unfortunately Multi-step Forms and Quiz Funnels Can Be A Challenge
Quiz funnels work really well but can be a pain to implement at times. Even though I have a team of designers, developers and wordpress ninjas on staff, this process is still more work than I would like.  Hence the reason we have started to collect all this code and build a new wordpress plugin with similar features (someday soon).
The good news is that you don't have to start out perfect (progress not perfection).You can easily use various online services such as getresponse surveys, questionpro and survey monkey to get started.
Ok, that concludes part one of three. Next week I will share some ninja analytic hacks that you can use to increase your leads and conversions.
Your comments, as always, are welcome.