My Deal
My Youth
The Dot-Com Bubble
I get "stoked" (surfer slang for excited) when talking about digital marketing, lead generation and sales. I enjoy taking fun trips with my family and spending quality time with my two daughters.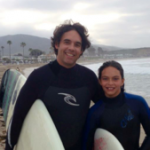 My eldest daughter is the creative type, like me, and she can read six books a month (not like me). My youngest daughter surfs competitively and loves it. I surfed years ago when I lived in Hawaii and just started doing it again because my daughters are so into it. It is tougher than I remember but I really enjoy it.
We have two funny little dogs.
I grew up with big dogs, black labs mostly and we have two Puggles now. Puggles are a mix between pug and beagle. They are awesome and have great personalities. The small dog thing is a little more practical than the bigger dogs I grew up with. they eat less, poop less and you can pick em up and move them out of the way without breaking your back.
In a past life I was in the Information Technology field (Network Security)… but you will have to find me on Linkedin.com if you want all the details.
I really enjoy anything related to marketing and particularly internet technologies related to lead generation. You might call me an internet marketing consultant or a lead generation expert depending upon the context of the situation.
Can I help you?
If you are a business owner or entrepreneur…. DEFINITELY!
You can usually see what I am up to by reading my blog. I tend to experience waves of inspiration when it comes to updating it…. sometimes I wont add anything for months… other times I will add three or four updates in a month. I guess it revolves around how busy I am.
My magic powers revolve around lead generation, sales and marketing… fast moving small business and entrepreneur stuff.
I recently outlined a lead generation case study that you read.
Expertise Includes:
Lead generation, copywriting, conversion optimization, split testing, paid traffic, list management, email marketing & marketing automation (Aweber, Infusionsoft, Icontact, Etc) product creation and product launch. Our team has recently started working on more development and integration between custom web applications and marketing platforms like infusionsoft. Fun stuff like converting a spreadsheet into a multi-user web application sales tool.
Other products I have created include:
(retired) http://internetstreetfighter.com – How to start your own local consulting business.
(retired) http://productcreationprofit.com – How to create and sell information products.
(retired) http://blackopsnlp.com – the art of persuasion and how you can use it to influence others.
(retired) Local Niche Spy – A local keyword software tool. Originally developed in 2009 then redone in 2010 as an adobe air application.
Here is a 30 second video promo about me. I worked with a buddy / video student to create this as a way to promote the joys of the internet lifestyle and personal freedom it can bring. It is still a work in progress and believe it or not this is about four months of a on and off work to create what you see here:
You can learn more about my professional background:
I was born in Arizona and grew up not far from the edge of town.
Basically my back-yard was the desert for most of my life. In fact I remember being sent home from grade school because I captured a Tarantula, put it in a mason jar (holes in the lid of course) and brought it to school. After about an hour into the school day my teacher freaked out, started screaming at me and told me to go home. I guess it took her that long to notice it, I don't recall exactly.
When I was about 10 years old my mother finally got me the dirt bike I always wanted.
It was a Suzuki RM 80 1970-ish and I rode it EVERYWHERE. Every day my mother gave me $1 to pay for lunch. Instead, I would save my dollar to put gas in my bike. Every day it was the same routine. I would rush home, wheel out my bike, start it up and race down to the Circle K to put $1.00 worth of gas in the tank.
Then I would ride for as long as I could on that $1.00 of gas before heading home with just enough in the tank to get me back to the gas station again the next day. On occasion I would run into a police officer who wasn't thrilled with me driving down the roads and side-streets ti reach the gas station and eventually the desert. One of two scenarios would occur:
Scenario #1 – I was close to the desert and on my way to go ride. In this scenario I would punch it, outrun the cop and disappear into the desert. Surprisingly they never called for backup or a helicopter pursuit. I only had to resort to this method twice so I am uncertain if it was really a viable long-term strategy.
Scenario #2 – I was headed home and nearly out of gas. In this situation I would pull over, take off my helmet and prepare for the lecture. I never received a ticket or a call to my parents but they always made me push my bike home… and typically watched me long enough to make sure I wouldn't jump back on and drive away.
Later on in life, closer to junior high school (7th and 8th grade) I was fortunate enough to get an upgrade. It was a new water-cooled single suspension RM125. That thing was light and super fast and I rode the hell out of it. Good times.
Just as I was starting 8th grade mom decided it would be a good idea for me to gain some perspective and culture. She called up her brother in Apia Western Samoa, then shipped me and my sister off to a small island in the pacific. And since she was a single mother, due to divorce, I think she really just needed some help. I was getting used to being free and running all over town on my dirt bike. Being all grown up with children of my now, I can see why this might have been a good idea.
The Samoa Years
At the time I was not happy about Samoa.
It was definately a step down in quality of life… Tropical, sweaty and lots of really big bugs. and NO dirt-bike. My transportation freedom was lost and I had the wrong color skin. I was the minority.
Luckily my cousins were half Samoan and half..uh..well…of my uncle. They taught me the language, helped my sister and I with adjusting at school and were really the only friends we had for a while. While I was there I learned a lot about Polynesian culture and the importance of family.
School was crazy. Samoa was formerly a british colony so they inherited many of the traditions from the UK. Including school uniforms and policemen with funny hats.
I excelled in school and never had an issue other than my occasional run-in with a Samoan kid who wanted to "slap box". That old schoolyard game where you pretend to fight but you don't actually punch…. oh wait…. in Samoa "slap boxing" is the same but remove the "slap" part and replace it with a punch. Supposedly a mild punch but I don't think Samoans actually know how to punch any way other than really hard. In fact, I though we were really fighting and I punched the kid in the face as hard as I could (notice my size in the picture I posted here). He laughed, and said "Good one, my turn"… oh shit.. I just realized he thought we just playing. If he actually punched me in anger I am pretty sure I would have died or needed hospitalization.
Samoans are big and they are ver very durable. Which is why they often appear on College and Professional football teams despite the extremely small population of Samoans and the general lack of interest in Football (they prefer rugby).
After Samoa I finally returned to Arizona about the middle of my Freshman year in High School.
High School, Yet Another Adventure.
When I returned My mother was remarried and we had moved away from the freedom of the desert deep into suburbia. To summarize high school it went like this:
Freshman Year – Honor Role
Sophomore Year – 3.7 or something like that.
Junior Year – Girls and Girlfriends, Getting into Trouble (in various ways), Flunking Algebra and Attending Summer School.
Then Shipped Off Again…This Time Hawaii.
This time mom decided that I was getting into too much trouble. Looking back… I agree.
Now you might be asking yourself…. Why do you keep going to these Islands? The short answer is…. that is where my moms' side of the family is from. Portuguese immigrants that found there home in Hilo Hawaii five generations ago.
Hawaii was interesting. Now I am a senior and really close to being an adult. My grandmother is living in Hawaii and agrees to take me in under her wing but eventually my cousins from Samoa show up to attend college and grandma leaves.
Then it is just me and my college cousins living in a house in Hawaii. Nothing could go wrong with that…. right? A senior in high school with no parents around and a college kid….hmmm.
(insert stories that I can't talk about here)
Returning From Hawaii.
After my short tour of Oahu beach life, night life and associated scenery I finally return to Arizona.
Not much to cover here other than an ongoing series of nearly adult mistakes associated with jobs, girl friends and poor choices in friends. All of which eventually lead me to join the military.
Joining the Navy.
I joined the Navy immediately after we announced our intervention into the Iraq / Kuwait incident (aka The Gulf War).
I didn't want to be a regular squid so I signed up for the "divefarer" program which included a special bootcamp designed to prepare me (and others) for BUDS.
I joined "undesignated" which meant that Uncle Sam picked your rating (aka your job) and ended up a corpsman, the military version of an EMT. Corpsman are also assigned to the Marines and often put in dangerous situations while trying to save lives.
I later learned that the US Government was expecting serious casualties due to the stock pile of chemical weapons Iraq held. I am glad they were wrong.
I started out in Florida for boot camp, then Great Lakes for "A" school (corpsman training) and then Coronado for BUDS.
(insert 20 crazy stories here)
After leaving the military I found my way into the technology sector and away from the medical field. I discovered that I had little sympathy for sick folk.

The DOT COM Explosion
I left the navy in the late nineties just as the internet started to explode and found my way into the technology world. More specifically, I.T. integration and management as a systems engineer. I worked for a few smaller companies and even had a short period of employment with the state of Arizona.
Eventually I ended up working for Nokia in there IP security group. We sold and installed Nokia / CheckPoint firewalls to companies like DHL, Wells Fargo and countless others. Later, Nokia decided to change their focus and I was laid off. It was a good deal actually and enjoyed the 6 month severance and 3 month vacation.
IT Outsourcing
After Nokia I found my way into a local IT consulting firm working as the V.P. of Technology and consulting. I had somewhere between 20 and 30 consultants, engineers, support technicians and one supervisor working in my group.
I spent most of my time helping our sales team close deals, writing proposals and occasionally rolling up my sleeves to work on a firewall.
Internet Marketing and Local Marketing
When the economy slowed in 2007-2008 due to the housing bubble, I had already started making money online. At the time, affiliate marketing was big and it was pretty easy to make money. I had been thinking about leaving the corporate world for a while when I stumbled upon a very inspiring book. The 4-hour work week by Tim Ferris.
That was all I needed.
The timing of that book was perfect for me and I followed his recommendations almost exactly as it was written. I even took it upon myself to do every exercise he had written like the "comfort challenge". I recall that one of the challenges was to stare down someone bigger and badder than you… that was indeed a mental challenge.
After making the transition from full-time IT guy to full-time Internet affiliate …. then I stumbled into Local Marketing.
One day I decided I would check out Facebook and shortly after I did all these old contacts started popping up. One of them was a high school buddy who went to chiropractic school and was now running his own practice in north Phoenix. One day we decided to meet and have lunch and when I told him what I was doing online… he asked me to help him with his business.
Then he referred me to another business owner, and another, and another and so on. Before I knew it I had a real local marketing business.